About Lincoln Elementary
History of Lincoln School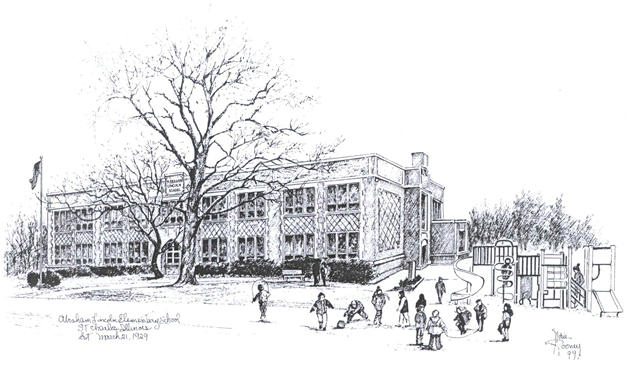 Built in 1928, Lincoln School is the oldest K-5 building in District 303, and is one that is unique and special. In addition to serving those students who live within the immediate "neighborhood" near Lincoln School, neighborhoods also included within the Lincoln School area are: Surrey Hill-Longmeadow, Pottawatomie, and Renaux Manor South.
The 2000-2001 school year was a historic year for Lincoln School. Construction of our new addition housing a Learning Resource Center and a new office complex was completed in April, 2001. Since its opening in 1929, Lincoln School has seen only one other addition to the original structure. In the early 1960's the current Art/Music room was added to the original building.
Lincoln School is the smallest elementary school in the district. For many years, Lincoln has served as a "two-section" building, that is, there are two sections of each grade level, with the exception of fifth grade, which is a one-section for the 2017-18 school year. With its small enrollment and supportive parents, Lincoln School provides a very special, caring, learning environment for its students.

A Note from Principal Balaskovits
As a community, we strive to support our students to become self-directed learners. Our staff models this through the use of a growth mindset. Mistakes are opportunities to grow our brain and learn. We remind students to use the word "yet" when they haven't been able to achieve their goals. We have focused on developing self-directed learning traits in our students over the past year, and have encouraged our families to support these traits at home. These traits include the following characteristics:
Confidence

Engagement

Persistence

Self-starting

Willingness to take risks

Self-regulation

Excitement about learning

Resourcefulness

Resilience

Independence before interdependence

Our students are mathematicians, readers, writers, historians and scientists. We are so proud of the hard work they put in each and every day. Stop by and see the amazing learning that happens here each and every day at Lincoln!